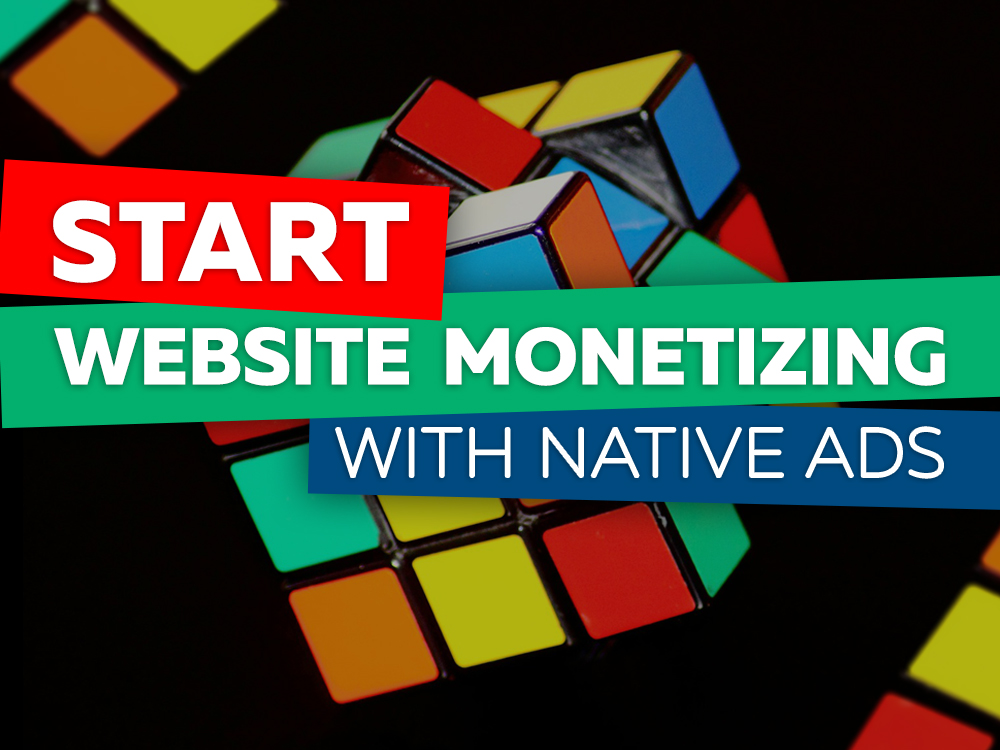 The most common method of earning from the website – is to place ads. Nowadays the most popular way to monetize a blog is banner and native advertising. We suggest you to use native advertising as it is targeted according to user's interests, location, gender and matches the website content. As a result – a user is not annoyed with an intrusive advertising and perceives such ads as a art of the website content. If you start using AdNow you should know that AdNow widgets have more flexible options, they deliver a large amount of various ads that do not allow the user to get used to the advertising and stop responding to it.
How to start making money by placing AdNow ads?
To begin with, you should sign-up to AdNow and add your site as a platform for displaying advertisements. Monetizing is possible both for websites and blogs, they should have a sufficient attendance, as your revenue will depend on the number of visitors.
Let's learn how to properly configure the AdNow native ads.
Widget placement
You can choose the place for widgets yourself. But according to top webmasters experience it has been proved that the most effective way to place widgets on all pages. A high CTR is provided by widgets located below the full article. But to increase the revenue you'd better place three widgets – in-feed, in the sidebar and below the article. Please find a detailed study case here .
A user will be loyal to your ads because native advertising corresponds to the users' interests. he was ready to pay attention to advertising. Such ads does not irritate. However there is one the most unfortunate placement – in the footer of the site. Ads are not to be hidden, they tease, should attract attention.
Ads design and content
In addition to the placement, it is very important to work on the design. We have already mentioned that AdNow widgets are flexible, and you can change settings. You can specify the number of ads in the widget, change colors and make them look like the content of your site.
To determine which design is the most attractive, try the AB-testing. Make different versions of the widgets, and after collecting the statistics, use the most clickable widget.
You can also specify which ads you do not want to appear on your website (for example, adult category).
How much can you earn by placing ads on the site?
There is a direct correlation between attendance and revenue. The more traffic a site has, the more clicks or impressions you will be paid for. But not all traffic is bought at the same rate. Sometimes rate depend on location, traffic quality and other indicators. You can contact your personal manager to know the details.  
Usually cost per click are not high, but the total revenue is high enough, due to a large volume of clicks generated by native ads. The most valuable traffic is from search engines.
How to improve the effectiveness of ads?
How to make advertising more effective teaser can be found by testing and communicating with you manager. AdNow provides a personal manager who speaks your language. He will help you to choose the most effective options and identify among them the very clickable and profitable.
How to configure the AdNow native ads?
You will insert ads using a special JavaScript code that can be easily integrated with the code of the site and does not interfere with search engine optimization. Such advertising is safe for the site and does not affect the Google ranking.
You should simply set up the design and the content of a widget in a admin panel, get the JS and integrate it into the code of your site.
Also recently we have developed AdNow WordPress Plugin : from now owners of wordpress websites and blogs will get a better experience with AdNow. WordPress plugin will save time and money as there will be no need to seek a programmer help to install AdNow widgets. Everyone can simply set up an AdNow plugin in a few minutes without any coding skills. To protect webmasters' revenues Antiadblock is integrated into the plugin: it disables adblock extensions that users install to prevent ads from showing. To activate Antiadblock and to ensure 100% delivery of ads a webmaster needs to put a tick.
Then begin to show advertising and start monetizing. It has never been so simple to earn money!!